Floating Hardwood Floors
DIY-Friendly Hardwood: What You Need to Know About Installing Floating Wood Flooriing
As you're shopping for wood flooring and exploring how to install it, you'll probably see the term "floating floor". So what is a floating floor? And is it right for your project? Let's explore this easy installation method — and which products can be installed this way.
What is a floating hardwood floor?
Floating hardwood floors offers a convenient, popular method for DIY installations. Unlike traditional hardwood installations, this approach doesn't require glue, staples, or nails. Instead, each plank features tongue and groove sections that easily interlock, forming a secure connection without fasteners. As a result, the hardwood floor floats above the subfloor, allowing for a straightforward and efficient installation process.
What hardwood floors can be installed as floating wood floors?
In the hardwood flooring category, only our engineered hardwood floors can use a floating installation. (Solid hardwoods must be attached to the subfloor with nails, staples or glue.).

Engineered hardwood boards that are able to be floated either feature a tongue-and-groove construction, or edges with a locking mechanism.
How does Locking installation work?
Many of our engineered hardwood floors feature locking technology, a floating floor system that is fast and easy to install. Boards simply lock together and fold into place, and no glue is needed to adhere the boards to each other.

This installation method delivers a tight fit and seamless appearance. We highly recommend this system for experienced DIYers.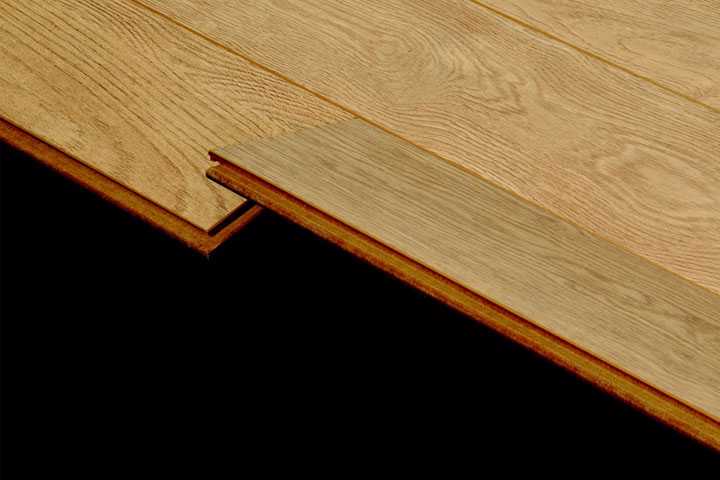 How does a traditional tongue-and-groove floating floor work?
Check the engineered hardwood installation guide for the installation methods recommended for your flooring choice. Some engineered hardwood floors are designed with tongue-and-groove boards. You can turn these into a floating hardwood floor by applying a bead of glue in the groove, and then inserting the tongue of the next board. You still don't need an adhesive to glue the boards down to the subfloor — the glue is only required to connect the boards.

This is another type of floating floor that an experienced DIYer can handle, but it will take more time than the locking system described above.
What are the benefits of using a floating hardwood floor installation?
There are several reasons a floating wood floor might be appealing to you:
What are the benefits of using a floating hardwood floor installation?
There are several reasons a floating wood floor might be appealing to you:
Subfloor flexibility – You can float wood over most subfloors, so long as it's level, flat, clean, dry and sound.
DIY-friendly – It's a super DIY-friendly installation method, since little (if any) adhesive is necessary, and no nails or staples.
Easy cleanup – After installation, it's easy to clean up. All that's needed is a mop or broom to dust off your FLOATING floors, and a little warm water for any glue residue, if glue was used.
Easy removal – Removal is easy and can be done with little impact, should the use of the room change and a new floor is needed.
Cost-saving – The cost to install a floating wood floor is less than other methods, because it's much faster!
Lots of Design options – It's easy to find a look you'll love that can also be a floating wood floor. Engineered hardwood floors, which are the only wood floors that can be floated, come in an enormous variety of colors and styles.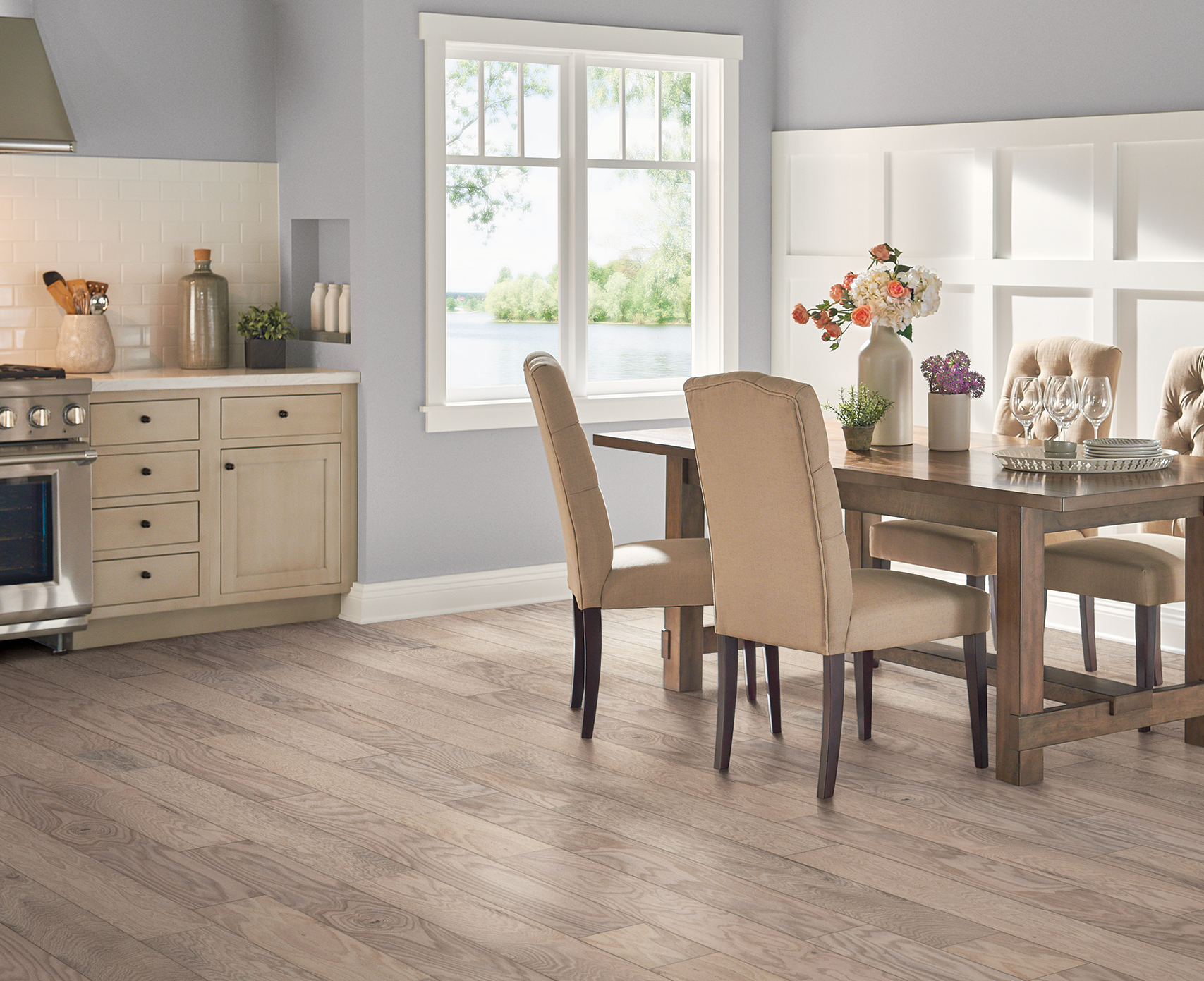 Are there any drawbacks to a floating wood floor?
Whether you use a floating hardwood floor with glue, or our locking technology, it's possible that you will notice a bit more vertical movement on floors than if they were glued, stapled or nailed down. Most people do not even notice this though, nor find it bothersome.

If you do use glue to connect your tongue-and-groove boards, you need to wait 8 hours for the glue to dry before walking on the floor.
Can I use a floating wood floor in my basement?
Yes! Using floating hardwood floors allow you to have the beauty of hardwood in moisture-prone basements, where solid hardwood flooring is not recommended. In a floating installation with engineered hardwood, boards respond to humidity and temperature changes as a unit, expanding toward the walls or contracting away. A properly installed floating wood floor should not bow or buckle in a moist environment, or develop gaps under dry conditions.
Do I still need an underlayment with a floating hardwood floor?
No matter how the floating hardwood is installed, an underlayment should be installed over the subfloor first, to give the flooring with some added protection against moisture and to improve sound transmission.
Where can I learn more about installing a floating floor?
View detailed step-by-step instructions on how to install a floating hardwood floor in our Specs & Guides Library.
Inspiration to Your Inbox
Sign up for news about our latest flooring innovations—and get inspired for your next project.
Sign Up