How to Choose the Best Hardwood Floor
Essential Q&A for Every Hardwood Floor Shopper
Choosing a hardwood floor may seem a bit daunting, especially if you've never done it before. Whether you're a newbie or a pro, understanding more will prepare you to choose the very best hardwood floor for your lifestyle, space and budget.
What's the difference between solid and engineered hardwood?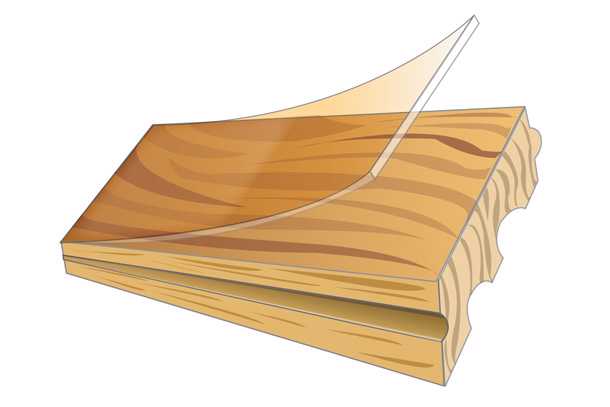 Solid Hardwood Flooring

As the name suggests, solid hardwood is a single, solid piece of wood. It is coveted for its authenticity, longevity and durability. Hardwood can vary in quality, so consider where it was sourced, as well as what kind of protective finish it has (more on that later). All of our solid hardwood flooring collections are made in the USA with domestically sourced lumber, a naturally sustainable resource. Many of our solid wood flooring collections feature premium Appalachian lumber, prized for its tightly refined grain, color consistency and stability, for a beautiful, consistent and easy installation every time.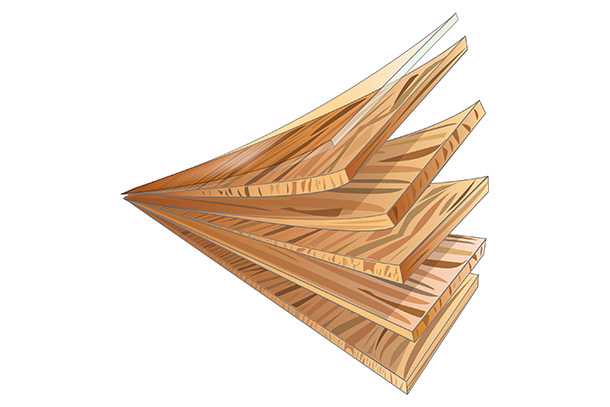 Engineered Hardwood

Engineered hardwood flooring is constructed from multiple layers of wood with a hardwood top layer that is 100% natural. Below the top layer, cross layers of plywood are pressed to create a strong, stable core. This multi-ply structure gives engineered hardwood the flexibility to be installed in places where solid hardwood flooring isn't an option, such as in basements, over concrete floors or over radiant heating systems.
Will it matter if I choose solid wood flooring over engineered hardwood (or vice versa)?
Maybe. Depends on where you're installing. Solid and engineered can't always be installed in the same types of spaces. With the exception of bathrooms and laundry rooms, solid hardwood flooring is great in any room on the ground floor or above. But below ground, in basements where air and moisture issues can be factors, engineered hardwood (or a non-wood resilient flooring) is recommended. Engineered hardwood flooring is also a good choice over concrete slab or radiant heating systems.
Can I install hardwood flooring in kitchens, bathrooms and laundry rooms?
In short: Kitchens, yes. Bathrooms and laundry rooms, no.

Both solid and engineered wood flooring are suitable for kitchens, and are often installed there — especially in open floor plans where the living, dining and kitchen areas flow together — but surface spills should still be dried quickly.

Hardwood floors are versatile and beautiful, but they're not the best material for every room. In bathrooms and laundry rooms, high potential for humidity and pooling water can create problems.
What factors will affect the durability of my hardwood floor?
Both solid and engineered hardwood flooring can be durable, but pet claws, cleats, dragged furniture, or a stone in a sneaker tread are examples of things that can leave significant scratches. For hardwood floor areas with high traffic, it's never a bad idea to institute a "please leave your shoes at the door" policy.

That said, there are some factors to keep in mind as you narrow down the best hardwood floor for your specific lifestyle needs:
How Busy Is Your Home?

Is it just you or do you have a family? A revolving door of visitors or relatively quiet? A big, rowdy dog or a declawed cat? Consider how active your household is, and the kind of foot traffic that the room (or rooms) will be getting. Hardwood flooring durability may turn out to be one of the most important factors for you, beyond the look of the floor.
Wood Species

Hardwood species used in flooring are given a hardwood hardness rating which indicates how resistant the wood is to dents and wear. As you would expect, harder woods are better able to withstand indentations than softer woods. Consider Hickory, Oak, Maple or Brazilian Cherry for the greatest durability.


Protective Finish

Regardless of the species, the type of protective finish that coats a hardwood floor will also play a big role in how scratch and stain resistant it is. (This is different from gloss level, which is purely cosmetic). All hardwood flooring styles come with a protective finish — we offer several levels. For example, many solid and engineered styles include our Lifetime Finish, which is powered by nanoparticles for a superior level of scratch, stain and wear protection.

Gloss and Texture

Though the level of gloss on your wood floors won't impact the durability at all, a low-gloss/matte hardwood floor will hide scratches and other wear better than a gleaming, high-gloss style. If you have an active home with high traffic, you might also consider a hardwood flooring style with hand-scraped texture, wire brushing or distressing. These rustic looks are not only on-trend, but they can hide everyday wear better than a smooth floor.

High-Performance Wood Flooring

If you want the prestige of hardwood flooring, but durability is your number one factor, you may opt for a high-performance hardwood floor. For example, we offer a collection called Performance Plus, which is infused with acrylic for maximum dent resistance, and has our Lifetime Finish. The acrylic treatment makes these hardwood floors up to 2X harder than traditional wood flooring. Even naturally softer species, such as Cherry and Birch, are hard enough for high traffic spaces.
Is hardwood flooring a good pick if I have pets?
Yes, but take precautions. The type of wood species you choose for your hardwood floor affects how well it holds up to wear and tear (see above). You can also help ensure a beautiful-looking wood floor by keeping your pets' nails trimmed, sweeping regularly to remove dirt, grit and fur, and wiping up spills and accidents as soon as they happen.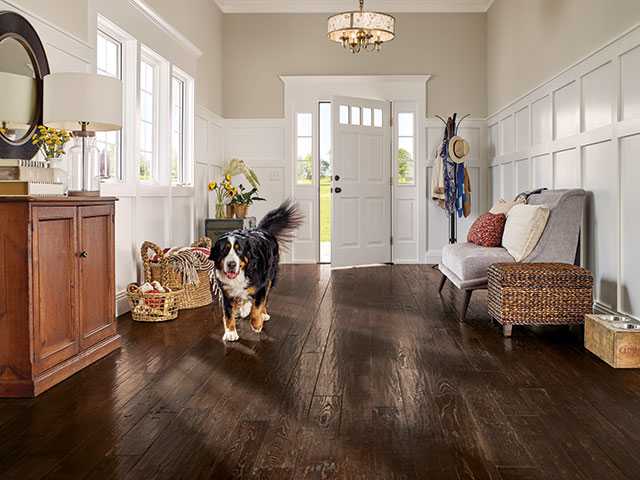 So many hardwood flooring styles! How will I ever choose the right one?
First step: don't panic. This is a good problem to have! With so many stylish choices, you'll be able to find a hardwood floor that looks amazing — and fits your good design tastes and your installation and durability needs.

Next step: know what to expect. Here are some of the characteristics that will affect the look and feel of your wood floors, so start thinking about the overall style you want to achieve.
The great variety in wood flooring choices comes from the species' natural colors, stains and finishes, and the wood's tendency to lighten or darken subtly with age and sun exposure. Different species also have different levels of color variation, which is the extent to which the natural colors and shades vary on individual wood planks. Less variation creates a more uniform look, while highly varied color adds more eye-catching character.

Texture and Surface Treatments

Hardwood flooring can take on a ton of different looks, depending on the textures, finishes and surface treatments that are used. Smooth wood floors look more traditional, while wire brushing and distressing mimic the look of reclaimed wood. Liming and etching create weathered looks, and hand scraping evokes a sense of heritage that can appear traditional or rustic, depending on the gloss level.
Wood Species

The differences in wood species are as fascinating as they are beautiful, from the pronounced grain of Oak to the fine, straight grain of Maple. Exotics like Tigerwood and Brazilian Cherry offer striking looks to create a bold design statement.
Character and Grade

The natural character of hardwood can vary from product to product. Some collections and species feature high color and character variation with filled knots, filled splits and large mineral streaks. This look can feel more casual or cozy, while wood flooring with minimal character is polished and classic.

Hardwood flooring can come in strips, planks or wide-width planks. Strips are board widths of less than 3″. Planks are 3 inches or wider. Wide-width planks, which continue to be a popular trend in hardwood, are 5″ or wider. Board width dramatically affects the installed look of a hardwood floor. Narrow strips are more traditional looking, and can create the illusion of space in a smaller room. Wide width hardwood planks can create a sense of openness and sophistication, but if installed in too small of a room can feel overwhelming.

Mixed-Width Boards

Some hardwood flooring collections come in multiple widths in the same box. Usually a narrower strip, a plank, and a wide-width plank are alternated to create a vintage style reminiscent of early-American craftsmanship.
Edge Styles

Hardwood flooring edge styles are the different ways ends and edges of each board are finished, creating (or lessening) definition and affecting the overall look.
Home Lighting

Many people don't consider how home lighting can affect how your finished wood floor will look. Ask your retailer for samples to view in your home, or browse our hardwood flooring then order them yourself on the individual product pages.
Should I buy prefinished or unfinished hardwood floor?
Prefinished hardwood floors come from the factory already stained and sealed, for a no-fuss, no-muss installation. (FYI: All our products come this way.) Prefinished wood floors are warranted to last longer than site-finished floors — 25 years or more for residential use, versus 3 to 5 years for unfinished hardwood flooring. This is because factory applied urethane finishes are much tougher and longer lasting than site-applied finishes. If you like the look of site-finished wood flooring, you can always choose a prefinished product with a square end and edge.
Can I refinish my hardwood floors?
Yes! Solid hardwood floors can be sanded and refinished several times throughout the floor's lifetime, if you so choose. You probably won't find it necessary, though, since we design our wood floors to provide beauty that lasts a lifetime.

Even engineered hardwood styles, if they have a thick enough top layer of wood, can be sanded and refinished a few times. Look for premium collections with thicker top layers.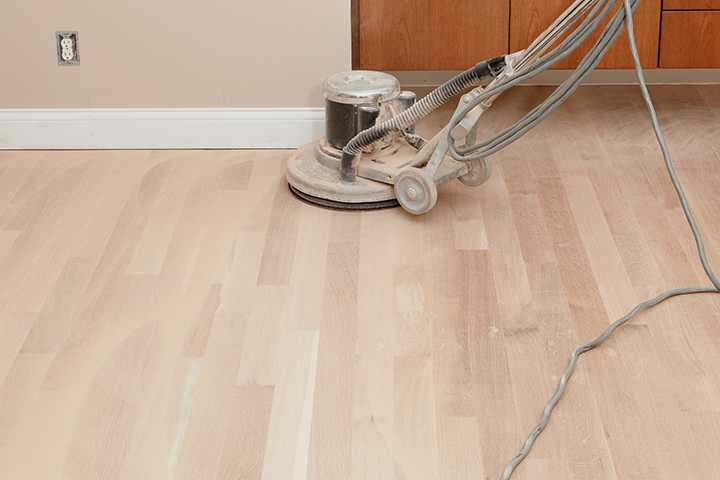 Can I install my own hardwood floor?
A hardwood flooring installation takes time, precision, and know-how to get it right. Even for experienced DIYers, hardwood installations can be challenging. A lot depends on your ability to take the time to learn what you need to know to properly install a hardwood floor, so that it will look and perform beautifully. Of course, we offer plenty of support in this area, but if you've never installed wood flooring you might find it worthwhile to hire a professional installer.
Where do I get trims and moldings to match my hardwood floor?
We offer coordinating trim and molding for every single style — in fact, many of our styles are a 1:1 match, meaning your trim and molding will be the exact color and species as the hardwood flooring you selected. Options include quarter round molding, reducer strip, t-molding, threshold, and stair nose. Ask your flooring retailer to show you trim and molding options that coordinate with the wood flooring you've selected.

Ready to Explore?

BROWSE HARDWOOD FLOORING
Inspiration to Your Inbox
Sign up for news about our latest flooring innovations—and get inspired for your next project.
Sign Up